I've been passionate about ART since I was a young girl.  I can remember loving to draw animals and making funny cartoon cards for my family.
I knew right away that I loved expressing myself through art.  It made me feel good inside.  I was encouraged  when adults recognized my Artistic talent and when my friends wanted me to draw things for them.
Later in life I can genuinely say that those experiences helped to increase my Self-Confidence and to Value myself more.
In High School Art allowed me to Shine.  I painted murals, football game signs, and always seemed to be called upon to generate school spirit with my creative abilities.
It was during this time that I was extremely influenced by my flamboyant and Prank Playing Art Teacher, Glenda Simpson.  She made art fun and totally encouraged me to explore, enjoy and immerse myself in it.  She is the adult that really implanted the idea that I could go to college, get an Art Degree and do what I loved for a living.
My Motto has always been, "Live Your Passion" and I'm super excited about bringing that JOY and Passion into my Art Lesson Videos.   You'll love how I encourage the connection of Caring, Sharing, and Giving in our Communities into all my art activity classes and products.
This is an element intended to Empower children to live quality, joy filled lives.  With Gratitude I Thank you for being a part my Art Program.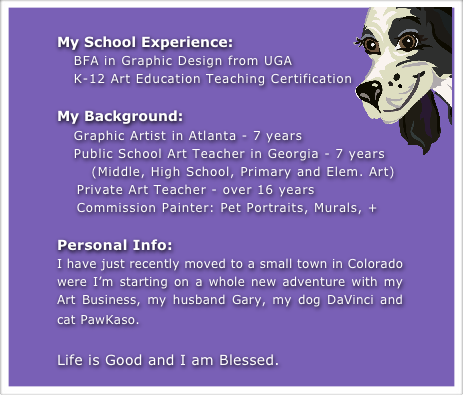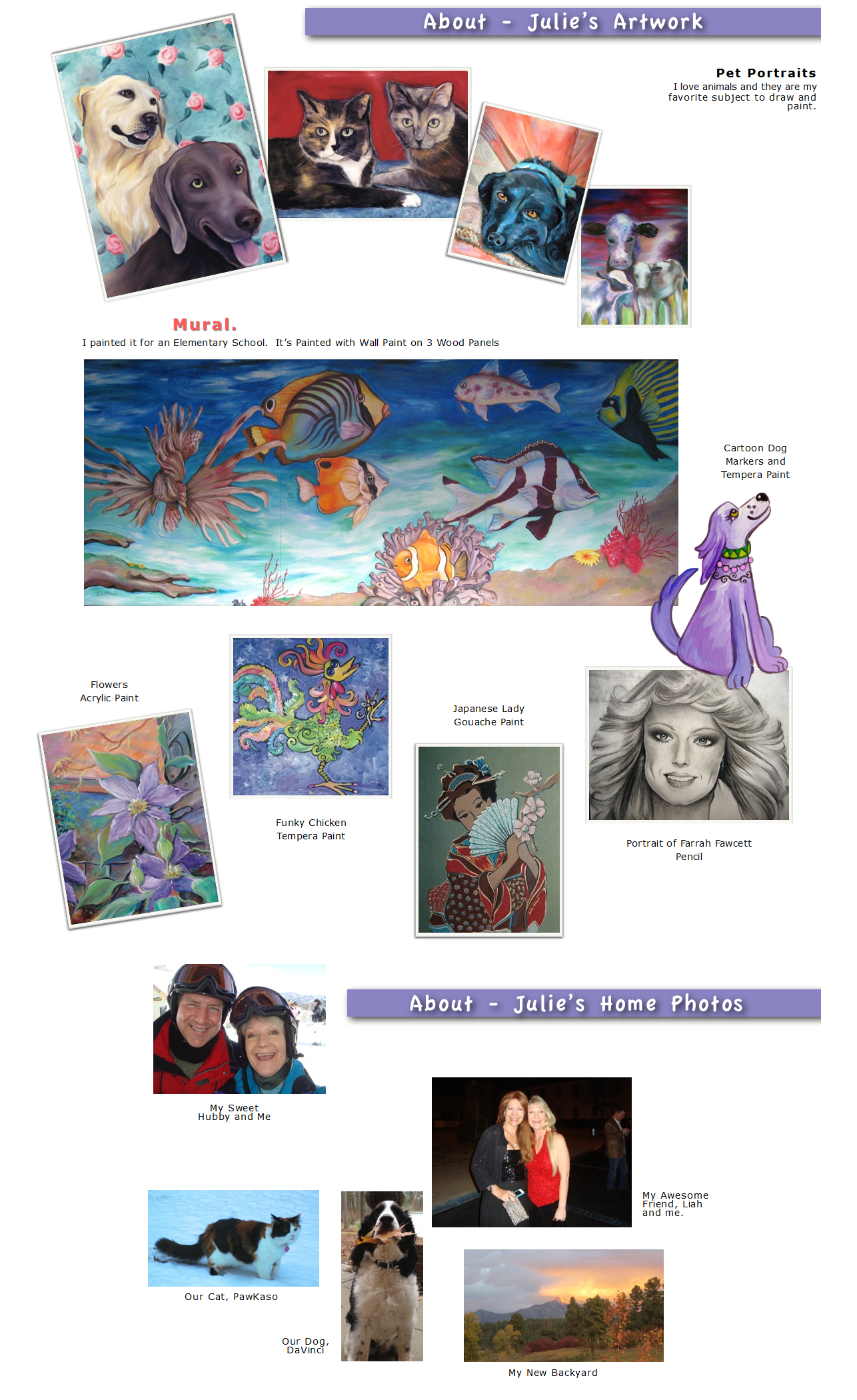 About – Julie's Testimonials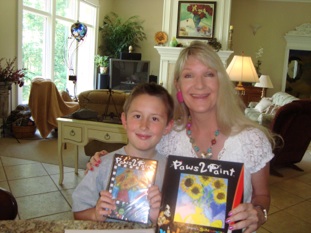 William's Artwork was chosen for the cover of my DVD!
Parent said: My son William `at age 4 came home from pre school crying because he could not draw. His classroom  assignment was to draw a picture of himself doing what he liked to do best.
He wanted to draw himself driving his toy tractor, but he did not know how to get started. He was very frustrated!
To make matters worse he was sitting next to a very accomplished budding artist. This 4 year old little girl made fun of his first attempts at drawing. She told him his work was a bunch of scribble scrabble. So this was the start of his fear and lack of confidence to draw anything.
William met Julie Noland the following year when he changed schools and started kindergarten. Her approach to William was so fun, positive and creative. She took WIlliam under her wing and convinced him that not only could he draw, he was actually quite good at it!
We can't thank Julie enough for all of her help!
She made all the difference in the world to my son. William who is now 9 years old is attending a performing arts school and has declared Art as his major.
Don't ever let anyone tell you that you can't draw or that you are not creative. Julie Noland is the best Art teacher we have ever met!
Julie's program will help the most artistically challenged child. She will take your child to new heights once they get started. The first step for William was to believe that he was capable.
Julie will always hold a special place in Williams heart!
Thank you for all of the encouragement and creative instruction Julie!
Love, The Houghtons
I had my art exam this morning. I think it couldn't have gone better! I felt really great about it. We talked about my inspirations and technique and the artists. You helped prepare me perfectly!
Thank you so much for all your help.
Mary Helen Trulock / High School Student
Thank you so much for being you. You can take a 5 year old and a 12 year old and break down the instructions so that their artwork turns out beautiful.
Everyone was amazed by you on Saturday. Your instructions are kept very simple, but they are soooo effective!!!!!!!!!
You do realize that your gift is not given to just everyone and we get your sweet/graceful personality to go along with it. You are a blessing every time we are able to be around you.
Thank you is just not efficient for our gratitude for how you were able to make Lauren's birthday so special.
They will all cherish the time with you and their prints for a lifetime and a waterslide could not have given so much.
Thank you for everything.
Mrs. West
They say that it takes a village to raise a child, but it takes just a couple of people who nurture, teach, inspire and guide a child so that they grow up understanding the beauty of what is around us!
Thank you for inspiring and teaching my little girl.
Mrs. Cindy Young
I think of you often and the inspiration and excitement I imbibed from basking in your presence throughout my childhood!
I have always admired you as a person full of a zest for life that only comes to those who follow their passion. As I embark on an adventure pursuing my own passions, I think of the happiness you've found in your endeavors.
And I'm INSPIRED!
So, thank you always and I send you my best wishes for a lovely upcoming autumn.
Victoria Faust
Thanks Mrs. Noland ).
You were my favorite teacher who paved the way regarding my creativity!
I graduate this June 2nd from SCAD!
Cyrus Nelson